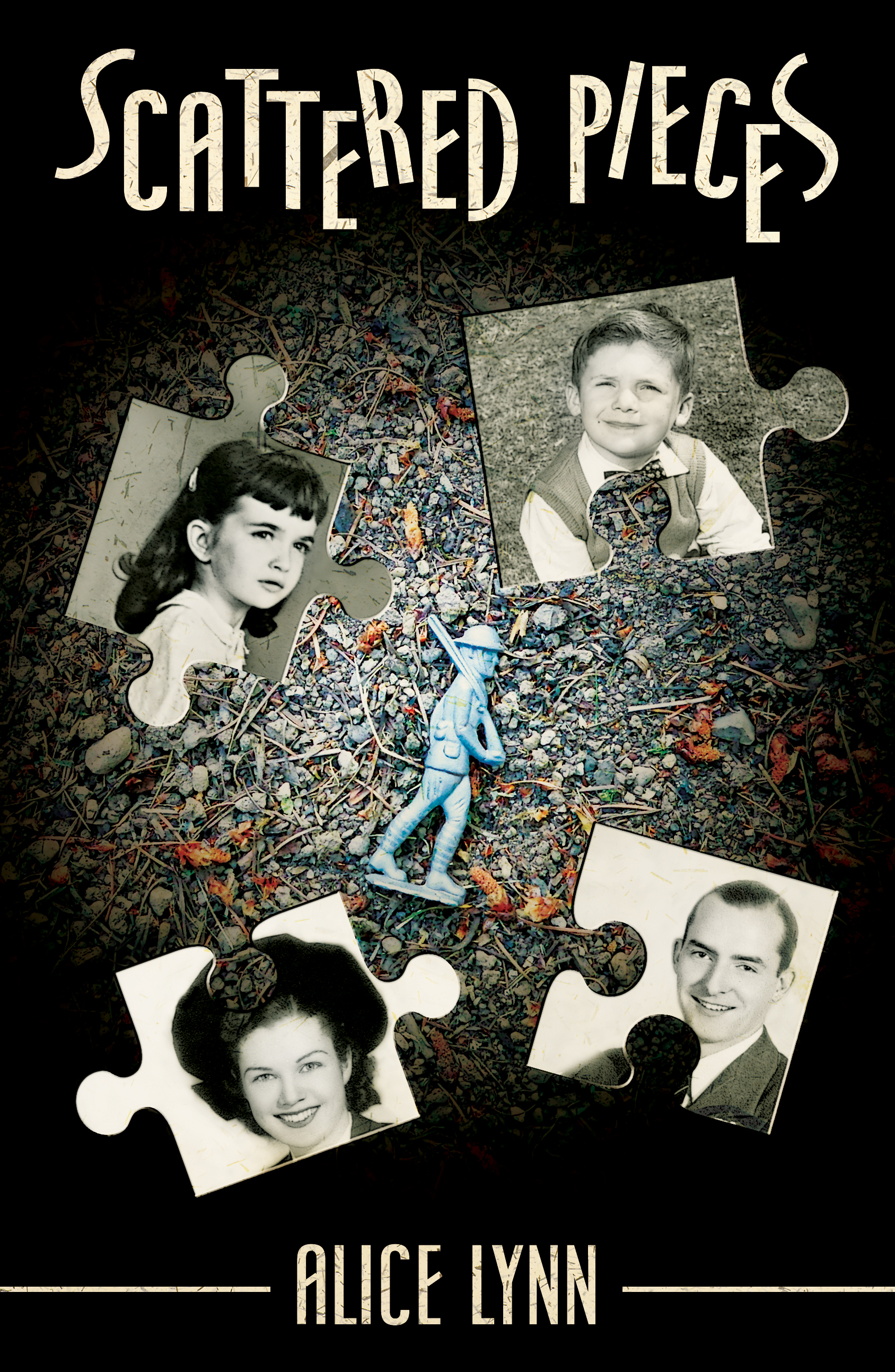 Scattered Pieces by Alice Lynn
Genre: Women's fiction
Synopsis:
When Katie's little brother is snatched in 1946 it tears her family apart. It's only through her friendship with the irrepressible Marilyn and Marilyn's handsome brother Tom that she navigates a lonely childhood. In college, studying psychology helps Katie understand her mother's mental illness and her own fears. And it leads to a client who may know something about her brother's disappearance.
My Review:
5/5
What an incredible read! I don't think I've finished a book this quickly in quite some time. I read and read and read all through the day and into the early morning hours. The book is THAT engaging from the very first sentence.
Alice Lynn wastes no time and dives right into the heart of the storyline from page 1. She captures perfectly the essence of the 1940's era with her easy-flowing writing style and flawless descriptions. She has a definite aptitude for storytelling. Her story maintains a smooth, romantic, yet haunting, ambiance all the way through. I've always had a fascination with, and held in high esteem, the men and women of "The Greatest Generation". Exploring tragedy, mental illness, mystery and romance through their eyes and those of their children, held me captivated. Although this book is listed under women's fiction, it's reminiscent of the young adult genre as it chronicles the main character's life from childhood to young adult.
The story is told through the eyes of Katie Harris, who is 6 years old at the beginning of the story. Katie, her mother and 4 year old brother, James, are at the train station, along with so many others, waiting to welcome home their father and husband who is returning from the war in Europe. Katie's mother instructs her to wait on a bench with Jimmy and to keep hold of him, as she weaves through the crowd in search of her husband. As little Katie is distracted by the activity of the crowd, Jimmy manages to twist out of her grip and disappear without a trace. Katie's father, who was shipped out a couple of months before Jimmy was born, will never meet his son.
One of the most moving passages, is Katie's description of the family's resulting anguish:
"As I reconstruct the past, I realize that words cannot adequately describe the disintegration of a family whose child is taken. Death due to disease or accident is heart breaking. But losing a child is its own cataclysm. Uncertainty wrestles with wild hope, and gives way to despair. Guilt, prayer, and anger live under a thin surface."
Katie is quickly befriended by Marilyn, who is a bright spot in this book, for me. Marilyn is the kind of best friend anyone would want. She is unwavering in her love, loyalty and acceptance of Katie from childhood into adulthood. The two friends compliment each other beautifully. While Marilyn is gorgeous, popular and charismatic, Katie is pragmatic,
reserved and an academic. Their bond is unbreakable and something to be admired.
Marilyn's brother, Tom, is 4 years their senior and a bright spot as well. Instead of being the older, obnoxious, belittling brother he could be, Tom is charming, athletic, artistic, handsome and considerate. Who wouldn't crush on that?? Like Katie, I never stood a chance.
Katie's parents are so consumed by their search for Jimmy and surviving their grief, that Katie becomes more of an afterthought. I love how Marilyn and her family open their hearts and home to her and become a second family, filling in some of the void left by her parents.
I really admire Katie, she's a survivor and a good person. A strong leading character, who doesn't search for the easy way out of things. You can't read this book without becoming emotionally attached to her, willing her to succeed in all her endeavors. I appreciate her strength of character as she faces her fears and tries to better understand her parents (and herself) through furthering her education. Instead of continuing to bury feelings, she seeks to unearth them and give them validation. As she begins her career, more questions and mystery arise. Could someone she knows have information about the disappearance of her brother?
Loved this story. Scattered Pieces is now listed among my favorite books. I couldn't help but be impressed with how intelligently written it is. An inspiring story of survival with strong elements of mystery, hope and romance. Good luck putting this one down. I recommend it to all readers age 16 and over.
You can purchase Scattered Pieces by following any of these links:
Amazon
Barnes and Noble
Smashwords
You can connect with Alice Lynn on:
Twitter
Facebook
Alice's Blog
Author's Bio: A native Oregonian, Alice Lynn spent her formative years in the Willamette Valley. She has pursued interests that range from horseback riding and amateur theatricals, to sculpting, gardening, and sewing. Her mother, who was a great reader, instilled her with a love of books. Writing seemed to flow naturally after that and has always been a part of her life. She graduated with a degree in psychology from Marylhurst University in 1999. Currently she resides in Oregon City with her husband and three cats. Scattered Pieces is her third book.