DRIVEN by Lisa Nowak
Full Throttle series
Synopsis via Goodreads:
The last thing on 16-year-old Jess DeLand's wish list is a boyfriend. She'd have to be crazy to think any guy would look twice at her. Besides, there are more important things to hope for, like a job working on cars and an end to her mom's drinking. Foster care is a constant threat, and Jess is willing to sacrifice anything to stay out of the system. When luck hands her the chance to work on a race car, she finds herself rushing full throttle into a world of opportunities—including a boy who doesn't mind the grease under her fingernails. The question is, can a girl who keeps herself locked up tighter than Richard Petty's racing secrets open up enough to risk friendship and her first romance?
My Review: 5+ Stars
Lisa, you've done it again! Driven is hands down my favorite book in the series. Pure literary joy. I didn't think Running Wide Open could be topped. I was wrong. I really couldn't put this one down. I've never given a book higher than 5 stars, but I'm throwing in a plus on this one - I loved it that much.
In book 3 of the Full Throttle series, Lisa Nowak has taken a different approach with her story. Instead of the story being told from Cody Everett's point of view, it's now Jess DeLand's turn. And she does not disappoint! The story is told from her perspective as her world collides with that of our favorite characters' from the previous books. This is a nice change and I thoroughly enjoyed it. The story is an emotional roller coaster ride, while being heartfelt, real and relatable, the entire way through.
Jess DeLand has it rough. Her dad walked out when she was 8, leaving her in her mother's care. While not an uncommon situation, this is an extreme hardship on her because her mother is an alcoholic. Jess has endured things no child should have to ever endure. Such as having to go to a bar, at the age of 10, and dragging her drunk mom home because her keys have been confiscated by the bartender. Or having to cut a much needed, much deserved evening with friends short because she has to collect her mom from the police dept. after she's busted for a DUI. Or having to work 2 jobs to help meet their basic needs because her mom can't be bothered to make it to work on time and hold down 1 job.
Luckily, Jess has skills. Before he left, her father cultivated in her a love of automotive mechanics. Her dream job is to work on cars, particularly racing ones. One day, Jess get a lucky break. She's offered the opportunity to live her dream of working on race cars . . . . and getting paid for it. No more flipping burgers for her. The bonus comes as she develops real friendships for the first time in her life. Having to hide her mom's abusive, neglectful and alcoholic tendencies has meant she could never make friends for fear her secret would be discovered and she'd end up in foster care. But, her new boss, teenage race car driver, Teri-Sue Cline and her younger brother Rhett, become the siblings she's never had. What she also wasn't expecting was the attention of one Cody Everett. After she takes a few swings at his head in a fit of rage, he can't seem to stay away from her.
Things are far from normal or easy for her. She's trying to find balance in her life, and it's proving to be a difficult task. Especially for someone who isn't accustomed to asking for help from anyone, no matter how dire her circumstances become.
What I most enjoyed about this book, is how all my favorite characters are incorporated into Jess' life, in addition to the new ones. Cody's and Jess' worlds mesh perfectly and we get what we loved about the previous books with a new, equally endearing story and protagonist. Although their relationship starts off on a hostile note, Cody and Jess compliment each other beautifully and find that they have a lot more than a love for the race track, in common.
"I understand how it is, not knowing what's gonna happen to you because your parents are too messed up to put you first." - Cody
Lisa's characters have tugged at my heartstrings since book 1. They are lovable and endearing as well as infuriating. I find myself wishing some of these people were real and that I was part of their inner circle. Their devotion to each other melts my heart. While some are selfish, flawed, and deeply troubled, others are fiercely loyal,
sweet, vulnerable,
dependable and sincere. As always, both sides of humanity are displayed. You have those who practice unconditional love and those who can't see past their own wants and desires. They elicit a wide range of emotions from the reader.
It's no secret I'm a huge fan of Lisa Nowak's. She's easily one of my favorite authors. She has a way of telling a wonderful, compelling story with incredible depth and humanity. This enables her to pull the reader in and make you care as if you've become a part of her characters' family. Her writing style is completely enjoyable. It's easy and flows effortlessly, never distracting from the storyline. If anyone has been on the fence about this series, I guarantee this book will seal the deal.
You can find my reviews of Running Wide Open HERE and Getting Sideways HERE.
Purchase links for DRIVEN:
About the author: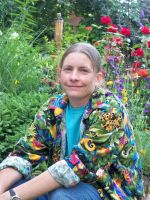 In addition to being a YA author, Lisa Nowak is a retired amateur stock car racer, an accomplished cat whisperer, and a professional smartass. She writes coming-of-age books about kids in hard luck situations who learn to appreciate their own value after finding mentors who love them for who they are. She enjoys dark chocolate and stout beer and constantly works toward employing wei wu wei in her life, all the while realizing that the struggle itself is an oxymoron.

Lisa has no spare time, but if she did she'd use it to tend to her expansive perennial garden, watch medical dramas, take long walks after dark, and teach her cats to play poker. For those of you who might be wondering, she is not, and has never been, a diaper-wearing astronaut. She lives in Milwaukie, Oregon, with her husband, four feline companions, and two giant sequoias.