Watched
by Cindy M. Hogan
Series
Book 1 in Watched Series
Summary via Goodreads
It takes more than a school trip to Washington, D.C. to change fifteen-year-old Christy's life. It takes murder.
A witness to the brutal slaying of a Senator's aide, Christy finds herself watched not only by the killers and the FBI, but also by two hot boys.
She discovers that if she can't help the FBI, who want to protect her, it will cost her and her new friends their lives.
My Review: 5/5
Fifteen year old Christy Hadden is
book-smart,
shy, unpopular, boring and never been kissed. That is, until she wins a scholarship that pays for 2 weeks touring Washington D.C. This trip means Christy can start fresh and be someone else for a change. Especially, when she's accepted into the circle of cool, good-looking kids, for the first time in her life. In order to maintain their acceptance, she goes against her better judgement and joins them in sneaking out of their hotel at night for a game. Things go terribly wrong when she and her new friends become witnesses to a murder. The FBI assures them that they're well protected and being watched. But, Christy knows they're not the only ones watching. With no arrests made, how safe can they be with terrorists on the loose?
As if that isn't enough to preoccupy Christy's mind, her existence is FINALLY being noticed by the opposite sex. Not one, but TWO incredibly hot guys are vying for her attention. This can't possibly sit well with the other girls, can it? Like she doesn't have enough to worry about as it is.
With killers closing in on her, will she survive long enough to see justice served? And with zero experience in the romance department, how can she know which guy is for her? Or if she's even READY for a relationship?
I really and truly enjoyed this book from beginning to end. Seriously hooked from page 1! If the sequel, PROTECTED (which I'm about to begin when I'm done with this review), is as good as WATCHED, this series will be well on it's way to finding a spot on my Favorite YA Series list.
This book has everything it needs to be a great YA book - strong protagonist, suspense, mystery, thrills, lots of action, chase scenes, intrigue,
angst and
romance.
Cindy captures the teenage mind really well. Christy's internal dialogue was spot on with how teenagers work through wants vs. needs and begin to get a feel for the strength of their own character. She finds herself questioning what her beliefs really are. What does that make you when you believe strongly in certain principles and judge others accordingly, then when tested, discover you didn't adhere to those principles? She learns the hard way that it's easier to judge people from an outside perspective, but when you find yourself in someone else's shoes, things aren't always so clear cut or black and white.
I really enjoyed the political element in this story, it reminded me of the movie, The Pelican Brief. I'd describe this book as a Young Adult version of TPB, but with a romantic spin. The story had intense moments and kept a great pace. All the characters were vivid, well-rounded and realistic. You WILL have your favorites! I already know which ones I'm hoping make appearances in PROTECTED. This is a really clean read that I recommend for teens AND adults. You've got to pick this one up!
Purchase links for WATCHED:
Where to find Cindy M. Hogan: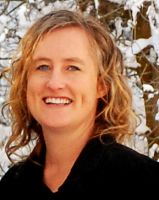 Cindy M Hogan graduated from BYU with a B.A. in education. She is inspired by the unpredictable teenagers she teaches. She loves the outdoors and spending time with her husband and two daughters. Most of all, she loves to laugh.