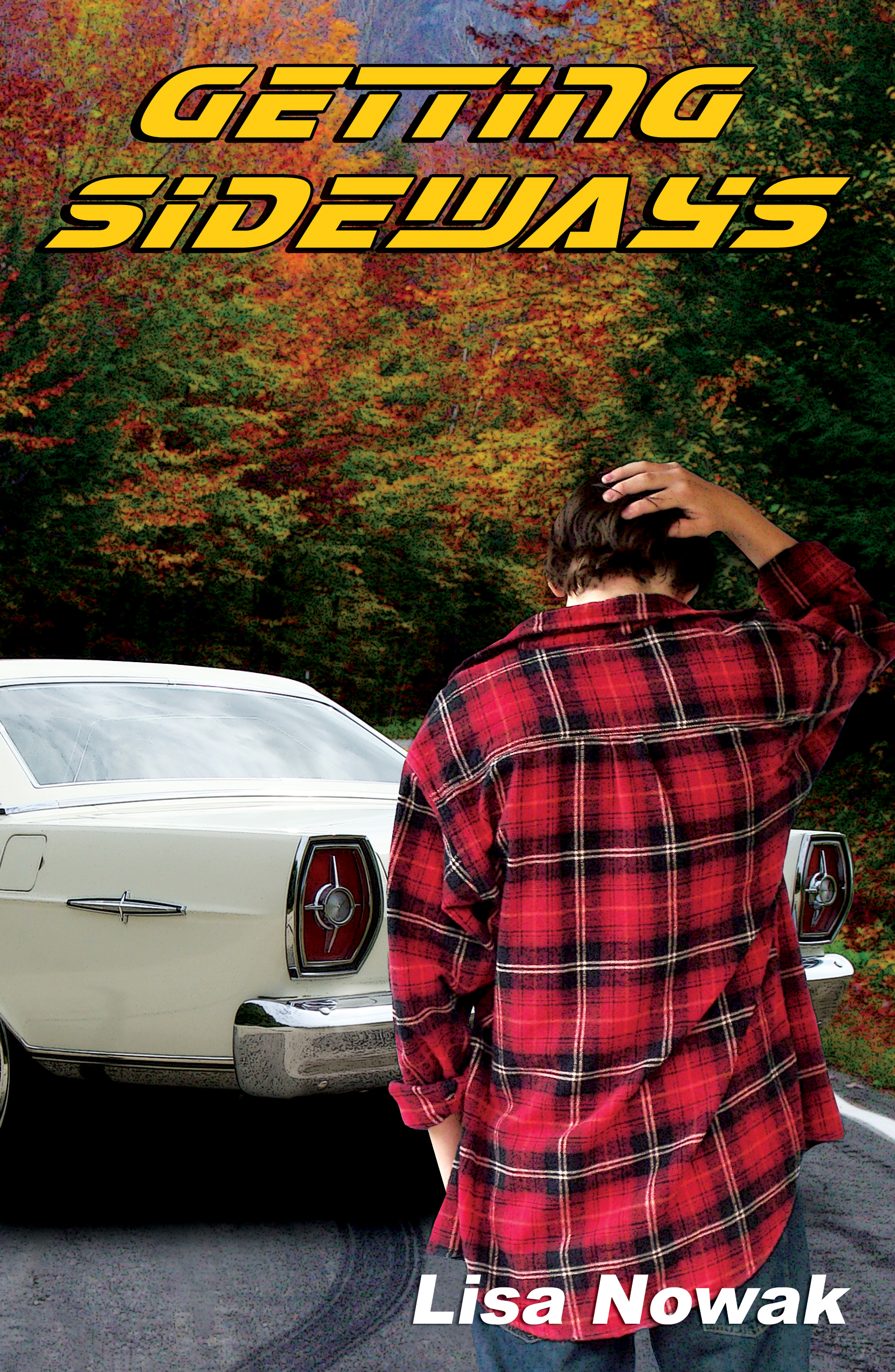 Getting Sideways
by Lisa Nowak
Series:
Book 2 in Full Throttle series
Summary
via Goodreads
Getting shipped off to live with his uncle Race was the best thing that ever happened to fifteen-year-old Cody. Then a wreck at the speedway nearly ruined everything. Cody's making every effort to get his life back on track—writing for the school paper, searching for the perfect girlfriend, and counting the days until he gets his drivers' license—but there's no escaping the nightmares that haunt him.

A chance to build his own car seems like the perfect distraction. Until Cody realizes he'll have to live up to Race's legendary status. But that's the least of his worries, considering he doesn't have his dad's permission. All he has to do is the impossible: keep Race from discovering his lie until he can convince his dad that racing's safe.
Yeah, sure. That'll be easy.
My Review: 4/5
I thought these could be used as alternate titles for this book:
Two Sides to Every Story
The Arduous Task of Forgiving Oneself
Chicks Be Cray-Cray
Denial, Not Just A River
Take Care What You Wish For, You Just Might Get It
Okay, those are silly. Still, they should shed a little light on some of the ground covered in this book. Cody has some very new experiences in this installment and it's an exciting time for him. Girls are now in the picture, he gets his license, starts writing for the school paper and is thinking about racing cars like his uncle. Does that mean things are looking up for him? Well, yes and no.
Getting
Sideways
begins with an exciting new development - Cody has a girlfriend. At least that's what he refers to her as. I'm not sure she qualifies. He spends a lot of time wondering what Megan could possibly see in him, when she's obviously the total package, and he's a short non-jock with baggage. It's entertaining to watch him discover why men find women to be such an enigma.
Thanks to Race and Kasey, he's made great progress with his issues on trust, self-confidence and self-control. But, who's able to overcome all their issues in less than a year? Letting the adults take the wheel and opening up about his feelings are still a work in progress. No doubt this can be traced back to his lack of parental guidance and support. What can't be blamed on his parents, are the regular nightmares of the crash that almost took Race's life.
Although book 1,
Running Wide Open
, was able to invoke my inner "angry teen" (that's right, she's still around),
Getting Sideways
appealed more to my maternal side. Explain
that
one. I spent most of the book worried that poor Cody was gonna give himself an ulcer, as he's such a worrier. More than once, I felt the compulsion to sit him down and tell him to knock it off and offer him a Prevacid or some other type of antacid. He so concerned with everyone's thoughts and feelings and wastes a lot of energy tip toeing around the people he cares about. Then there are the grudges he still holds towards his parents and Jim (the guy who crashed into Race). I don't think they're unfounded, but we all know how taxing it is to hold a grudge. Add to that the guilt of making a bad decision, plus the resulting damage to his relationships and you've got one depressed kid. Luckily, he's surrounded by people who are in need of forgiveness themselves and are not about to give up on him. But, can Cody forgive himself?
My favorite parts in the book are when he has some real ground breaking moments with his dad. The flood gates are opened and Cody reveals his true feelings about his disappointment in his dad. Harsh words are exchanged, but a weight is lifted. Also a favorite, Race and Kasey's relationship. Can Race get past his hang-ups? Will Kasey continue to wait for him until he does? You've got to read the book to find out!
I enjoy the steady pace in which Lisa Nowak's characters mature and develop. It's so realistic and true to life. We don't wake up one day and have it all figured out - we stumble and falter and then right ourselves. As Race puts it,
"It's like learning how to drive. Every once in a while, you'll find yourself getting sideways."
The epilogue was a fantastic way to end this book and left me wanting more. I can't wait to see what's in store for all these wonderful characters in the next book,
Driven,
due to be released in Spring 2012.
Link to purchase GETTING SIDEWAYS:
Amazon
Barnes and Noble
Smashwords
Where to find Lisa:
Blog
Twitter
Facebook