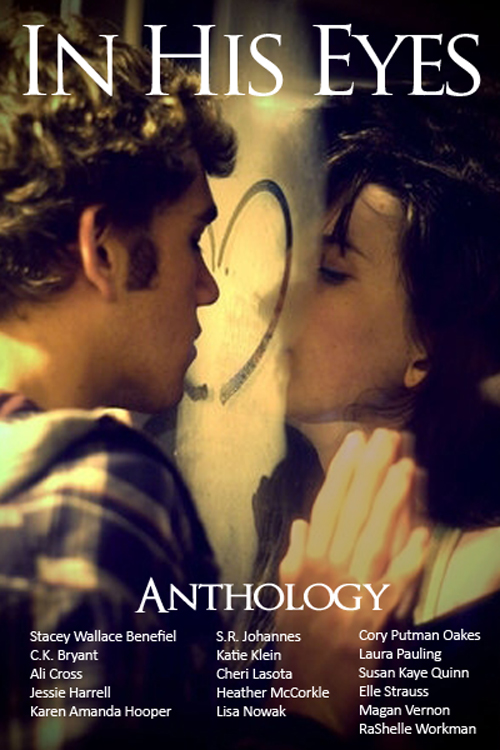 Just in time for Valentines Day,
The Indelibles
bring you a one-of-a-kind young adult anthology! Sixteen original short stories all from the point of view of our favorite male characters - some are old flames from our novels and some were dreamed up especially for this anthology.
Let these imminently crushable, swoon-worthy guys show you what romance looks like - in his eyes.
The contributors to In His Eyes include award winners, frequent "Top 100" placers, and hot 2011 debut authors.
In His Eyes
is
FREE at Smashwords
and $0.99 at Amazon and Barnes and Noble - hopefully to go free there as well by our
release date on February 14 for Valentines Day
. Or you can add
In His Eyes
to your
TBR list on Goodreads
.
Stories included in the Anthology:
Surprise, Surprise by Stacey Wallace Benefiel *ZELLIE WELLS Trilogy*
First Kiss or First Kill? by C.K. Bryant *BOUND series*
Shattered by Ali Cross *BECOME series*
Before by Jessie Harrell *DESTINED*
The Qualm Before the Storm by Karen Amanda Hooper *TANGLED TIDES (The Sea Monster Memoirs series *
Unspeakable by S.R. Johannes *UNTRACEABLE (The Nature of Grace series)*
In the Beginning by Katie Klein *THE GUARDIAN*
A Chance Encounter by Cheri Lasota *ECHOES IN THE GLASS (to be released)*
Family Bonds by Heather McCorkle *THE SECRET OF SPRUCE KNOLL (Channeler series)
Getting Closer by Lisa Nowak *RUNNING WIDE OPEN (Full Throttle series)*
Precalculus by Cory Putman Oakes *THE VEIL*
The Almost Assassin by Laura Pauling *A SPY LIKE ME (to be released)*
Mind Games by Susan Kaye Quinn *OPEN MINDS (Mindjack trilogy)*
By The Firelight by Elle Strauss *CLOCKWISE*
A Very Alien Valentine's Day by Magan Vernon *HOW TO DATE AN ALIEN (My Alien Romance series)*
Aligned by RaShelle Workman *EXILED (Immortal Essence series)*
My Review: 4/5
Reading this anthology was fun! It was like speed dating - spending a few minutes with each story and deciding if you like the storyline, characters, the author's writing style and so forth, then deciding if you'd like to pursue it further. Wait. I've never done the speed dating thing, maybe there's some unpleasantness associated with that. Since it was completely enjoyable, let me find a better analogy. Okay, I've got one! It was like going to Baskin Robbins and trying 16 of their 31 flavors. Yeah, you might like some better than others, but THEY'RE ALL ICE CREAM . . . . . WINNING! Plus, you can have them all in one sitting if you want (why does everything lead to food, with me?).
If you've been hanging with me for the few weeks I've been up and running, you know that I have a special affection for the ladies that make up the The Indelibles. Several have been kind enough to forward me their books for review and I've won a couple more in giveaways. So far, I've reviewed 3 books that are linked to 3 of the short stories listed above, on my blog -
BOUND by C.K. Bryant
,
RUNNING WIDE OPEN by Lisa Nowak
and
BECOME by Ali Cross
. Reading those 3 stories in this anthology was like visiting a friend. You already know the basics, and yet there's still something new and interesting to learn about them. Also, a male perspective for the whole read, that's a bonus. Throw a romantic theme on top of that and you've got the recipe for an extra special Valentines Day treat. . . and it's FREE! Who says no to that?? I'm gonna go with. . . . . crazy people.
Like I mentioned earlier, some flavors stood out. The short stories (other than those associated with books I've already reviewed) that pulled me in and whispered, "Gotcha! You're mine. Read my book or you'll never sleep again!" were:
IN THE BEGINNING
(The Guardian) by Katie Klein,
PRECALCULUS
(The Veil) by Cory Putman Oakes and
MIND GAMES
(Open Minds) by Susan Kaye Quinn. They get my AWESOME FIRST IMPRESSION Award. But, trust me, ALL the stories are good and piqued my interest. I'm sure I'll eventually get around to reading every book on the list. So, now it's your turn to check it out and see which ones end up making YOUR list of best first impressions.
I recommend this to everyone who enjoys reading YA, don't pass it up!
Visit The Indelibles HERE.
Get it here FREE at Smashwords!
Also, HERE at Amazon
Buy HERE at Barnes and Noble