Random...
I'm not a big swearer, I left those days back in high school. I'm proud to say I've expanded my vocabulary, kinda, sorta.....like, yeah. That's not to say I don't still get the impulse to let one sneak out from between my lips, when the occasion calls for it. For example, I am making spaghetti for dinner like a good little mommy. I'm also trying to do several other things at the same time, so that my precious time isn't wasted watching noodles turn from stiff to limp. *ahem* I've got the laptop on the counter and I'm trying to catch up on shows that I've missed throughout the week, due to my efforts to further educate myself on blogging. Did I mention that I started dinner really late? Yeah, so my kids are kinda starving and I'm JUST gonna have to reconcile with the fact that I'm out of contention for that Mother-of-the-Year award.....again. So, why was I making dinner so late, you ask? Take a guess. Why, YES, I was reading a book! Oh, it's like we're old friends, you know me so well. So, back to the other things I was trying to do while making dinner - checking e-mails, Facebook, and dusting the cobwebs off my Twitter account during the Hulu commercials. Instead of reaching up in my cupboards for my colander (cause that just takes too much time, right?), I decided to drain the hot water out in the sink using a spatula to hold the noodles in as I tipped the pot. SPLOOSH! All my noodles fell into the sink and I had to start all over again.....and it's nearly bedtime. Nice. Though I feel the situation called for it..... I swear I did not swear.
BOOK NEWS...
Although this probably isn't considered "hot off the presses" news, it's still pretty fresh. It's an exciting time for author Addison Moore and fans of her CELESTRA series. This is an excerpt from her official release...
"I am so honored and thrilled to announce that 20th CENTURY FOX has optioned FILM RIGHTS to the Celestra Series with the intent of turning it into a TV SERIES!!!!!!
There's more!

-->Oscar, Emmy, Golden Globe award winning, Executive Producer Stephen Gaghan of SYRIANA and TRAFFIC fame is championing the project!!!<--- AMAZING, right?!!!!"
I will definitely be tuning in for that!
Not familiar with Addison Moore's work? Allow me to introduce you...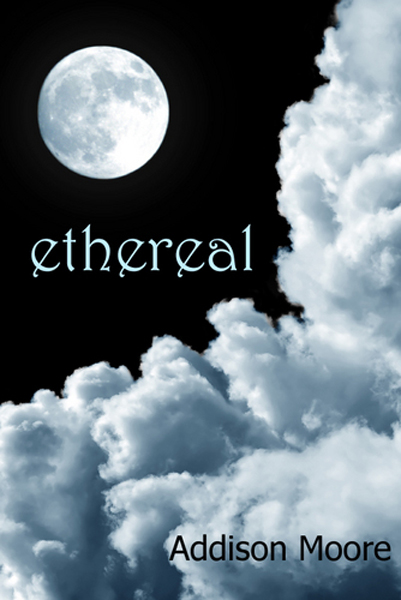 Add caption
ETHEREAL, Book 1 in the Celestra Series synopsis -
Sixteen-year-old, Skyla Messenger is a dead girl walking. When her family moves to Paragon Island, to a house rumored to be haunted, Skyla finds refuge in Logan, a boy who shares her unique ability to read minds. Logan is reluctant to answer Skyla's questions about their gift, but why? Suddenly an entire faction of earthbound angels wants her dead, at least she still has Logan, or does she?
I read ETHEREAL and I was caught up in Skyla's story. Her family is very dysfunctional - infuriatingly so. But, she makes friends quickly to help her through her transition to a new town. I found her new friends, Gage and Logan, to be really fascinating, I couldn't get enough details about them. Skyla's dynamic with each boy individually is interesting, but then so is the dynamic between the cousins themselves. By the end, you receive some answers to the questions that plague Skla, but you're also left with even more questions as some of the mystery surrounding the factions is revealed along with the history of one of the book's haunting characters. I must include that I've only read books 1 and 2 so far, but I'll definitely be picking up were I left off.
Book 1 is available for purchase on Amazon and Smashwords for 0.99, while books 2-5 are $2.99.
Check 'em out!!!!
If you're going through Hell,
Keep on going, don't slow down
If you're scared, don't show it
You might get out
Before the devil even knows you're there
- Rodney Atkins