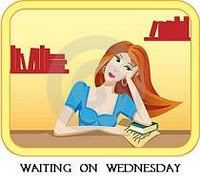 "Waiting On" Wednesday is a weekly event hosted by
Breaking the Spine
, that spotlights upcoming releases that we're eagerly anticipating.
Releases September 18, 2012
Elisa is the hero of her country. She led her people to victory against a terrifying enemy, and now she is their queen. But she is only seventeen years old. Her rivals may have simply retreated, choosing stealth over battle. And no one within her court trusts her-except Hector, the commander of the royal guard, and her companions. As the country begins to crumble beneath her and her enemies emerge from the shadows, Elisa will take another journey. With a one-eyed warrior, a loyal friend, an enemy defector, and the man she is falling in love with, Elisa crosses the ocean in search of the perilous, uncharted, and mythical source of the Godstone's power. That is not all she finds.
A breathtaking, romantic, and dangerous second volume in the Fire and Thorns trilogy.
If I could recommend one YA book to everyone, it would be Girl of Fire and Thorns by Rae Carson. It was HANDS DOWN the best book I read in 2011. You might be thinking, "Wow. That's quite the recommendation. What about this book got this chick so excited?" Allow me to answer that thought. The writing was superb, the story was breathtaking and the heroine. . . .magnificent. Rae Carson wove a story so compelling, so thought-provoking, that I'm going to make it required reading for my daughters.
Elisa, the protagonist, is unlike any character I've ever read about in a YA book. First off, she's of Latin or Hispanic or Spanish descent - I don't ever remember her ethnicity being stated for the record.
But I'm comfortable with making that assumption, due to the fact that she's got darker features, a lot of the native language they use in the book is Spanish or at least closely Latin-based, her voice throughout the book
, and especially some of the customs. Why does that mean anything to me? Because I'm Hispanic. I'm tan-skinned with dark brown hair, brown eyes and I can speak Spanish (some) ;) I was over the moon about this amazing story about a brown girl with weight issues. I felt proud of the rich culture and heritage being spotlighted in the entire book. And, truth be told, a bit relieved to have a break from all the pale, blond, blue-eyed heroines in every book I read. I have nothing against blond, blue-eyed beauties...trust me. I've spent most of my life wishing I was one of them. Which leads me back to my daughters. Although they're much lighter skinned than I am, I don't want them to ever wish they were or looked anything different than what God made them. Elisa offers even a thirty-something year old like me, someone to look up to.
Okay, yes, for those of you who've read Girl of Fire and Thorns, I concede that that is not at all what she starts off as. In fact, I remember wanting to smack her senseless for the first part of the book. But, her growth from being an insecure, teenage wallflower to a strong woman who is a Princess in more than title, is MAGNIFICENT! I love how the people around her are as responsible for her incredible transformation, at the end of Fire and Thorns, as she is. She's not perfect by the end - she's a work in progress. A butterfly emerging from it's chrysalis. For this reason, and many more I didn't list, I can hardly sit still till September. Crown of Embers is going to be epic. . . .I just know it.
What are you waiting on???