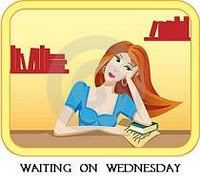 "Waiting On" Wednesday is a weekly event hosted by
Breaking the Spine
, that spotlights upcoming releases that we're eagerly anticipating.
R E A C H E D
by Allie Condie (Matched, #3)
Releases November 13, 2012


Cassia faces the ultimate choices in the long-anticipated conclusion to the New York Times bestselling Matched Trilogy

After leaving Society and desperately searching for the Rising—and each other—Cassia and Ky have found what they were looking for, but at the cost of losing each other yet again: Cassia has been assigned to work for the Rising from within Society, while Ky has been stationed outside its borders. But nothing is as predicted, and all too soon the veil lifts and things shift once again.

In this gripping conclusion to the #1 New York Times bestselling Matched Trilogy, Cassia will reconcile the difficulties of challenging a life too confining, seeking a freedom she never dreamed possible, and honoring a love she cannot live without.
I've really enjoyed this series. Book 1, MATCHED, has been my favorite - plenty of romance, angst, mystery and suspense. Book 2, CROSSED, was good too, but much slower. I admit, there were times I had a hard time picking it back up. When it was good, it was really good, it just wasn't consistently exciting. The cliffhanger ending was incredible and this is why I remain a fan and am anxious to get my grubby little fingers on REACHED. With everything tying up and secrets revealed and Cassia choosing which love to pursue, it promises to be an epic ending! Can't wait! I'll be reading anything Allie Condie puts out, because you can bet it's going to be quality stuff.
What are you waiting on??